100% Pure Cold Pressed Moringa Seed Oil
In our opinion and many others, Moringa seed oil is the finest oil in the world. Large cosmetic companies are jumping on the moringa band wagon because of its excellent properties.  It has an high oleic content and  its non drying.
An excellent moisturizer, massage oil, antibiotic, anti itch product, mosquito repellent and so much more as we spell out below. Use for body and bath. A little goes a long way. Our moringa oil is first cold pressed with a rich sun flower yellow color. It is run through the press just once thus avoiding excessive heat.
Click here to order this exquisite moringa seed oil with monthly autoship so you never run out!
Click here to order this exquisite moringa seed oil one-time.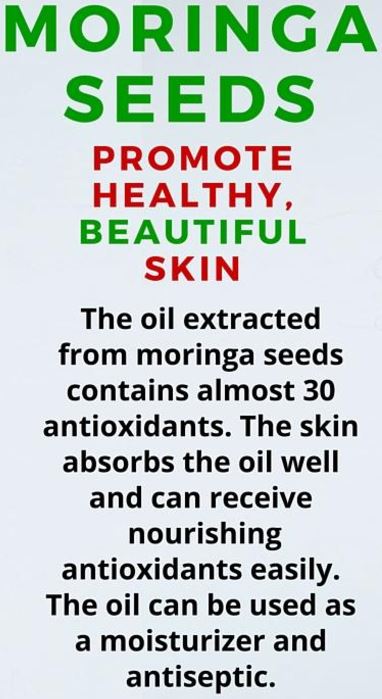 Moringa seed oil comes from the seeds of an incredible tree originally native to the foothills of the Himalayas. Moringa oil is incredibly light, spreads easily on the skin and is readily absorbed. It's high in antioxidants that make the oil useful for preventing and reversing skin damage, and its fatty acid profile is similar to that of olive oil. It takes approximately 500 Moringa seeds to produce 1 oz (29.6 mL) of cold pressed oil. This means it takes approximately 35 mature seed pods to produce 1 oz of oil! Now you know why cold pressed Moringa oil can cost as much as $10/oz for small quantities! It is however an incredible Godsend!
Just like Moringa leaves, Moringa oil benefits are abundant! The oil has many incredible properties not typically found in a single source. In addition to the oil's high levels of oleic and behenic fatty acids, the oil has antioxidant and anti-hepatotoxicity properties. This makes the oil a powerful and natural tool for a wide range of applications.
The oil is actually known commercially as ben oil, and it's for good reason! This name was derived from the high quantity of behenic acid (up to 9%) that the oil contains. No other oil even comes close to having this level of behenic acid–but more on that later. The oil has a pale yellow color, has a very mild nutty flavor, is odorless, is non-sticking, is non-drying, is liquid at room temperature and resists rancidity lasting for several years after it's produced. Incredible!
It's important to point out that most moringa seed oils on the market has been diluted with a lower quality oil in an effort to drive down cost. Our moringa seed oil is 100% pure and unadulterated right from the source in India so you can get the full benefit of this amazing substance.

Nutritional and Photo-Chemical Properties of Moringa Oil
Moringa oleifera seed oil, like olive oil, contains high amounts of monounsaturated acids. The oil is made of up to 72% oleic acid (C18:1) which is a monounsaturated, omega-9 fatty acid. This high concentration of oleic acid gives the oil excellent moisturizing characteristics.
Of major significance is the fact that the oil also contains up to 9% behenic acid (C22:0). Behenic acid, a saturated fatty acid, is often used in moisturizers, hair conditioners and lubricating oils. It is the behenic acids conditioning properties that help to keep skin and hair soft and smooth. For comparison, peanut oil has the next highest concentration of behenic acid with up to 3%. Other oils contain very low levels (1% or less) of behenic acid if they contain any at all.
For a complete list of fatty acids that make up Moringa oleifera oil, see the chart at the bottom of this page.
Vitamin E

Moringa seed oil is a good source of vitamin E found in three different tocopherols (α-, γ- and δ-). The tocopherol concentrations are reported to be 98.82–134.42, 27.90–93.70, and 48.00– 71.16 mg/kg, respectively.
Sterols

Moringa oleifera oil contains small amounts of many phytosterols and even cholesterol as well. It is reported that the sterol composition of Moringa seed oil differs greatly from those of most of the conventional edible oils. Many of the Moringa oil benefits come from these sterols.

The sterols that are found in the highest concentration are listed below:

β – Sitosterol
Beta-sitosterol is found in Moringa oleifera oil in concentrations of approximately 225mg/100g. According to WebMD:
Beta-sitosterol is a substance found in plants. Chemists call it a "plant sterol ester." It is found in fruits, vegetables, nuts, and seeds. It is used to make medicine.

Beta-sitosterol is used for heart disease and high cholesterol. It is also used for boosting the immune system and for preventing colon cancer, as well as gallstones, the common cold and flu (influenza), HIV/AIDS, rheumatoid arthritis, tuberculosis, psoriasis, allergies, cervical cancer, fibromyalgia, systemic lupus erythematosus (SLE), asthma, hair loss, bronchitis, migraine headaches, and chronic fatigue syndrome.

Some men use beta-sitosterol for enlarged prostate (benign prostatic hyperplasia or BPH). Some women use it for symptoms of menopause.

Marathon runners sometimes use beta-sitosterol to reduce pain and swelling after a run. Some people apply beta-sitosterol to the skin for treating wounds and burns.
Stigmasterol
Stigmasterol is found in Moringa oleifera oil in concentrations of approximately 115mg/100g. It possesses powerful hypoglycemic, antioxidant, and thyroid inhibiting properties.
Campesterol
Campesterol is found in Moringa oleifera oil in concentrations of approximately 75mg/100g. It is believed to be an anti-inflammatory and also has shown to help mediate osteoarthritis.
Therapeutic Properties of Moringa Oil
While much research is still being conducted, here is a summary of some research that has been already published on therapeutic properties of Moringa oil.
Moringa Oil Antioxidant activity:
A study completed in 2011 found Moringa seed oil had good antioxidant capacity. They summarized that:
…Moringa Oleifera gave high oil yield, which has good antioxidant capacity with potential for industrial, nutritional and health applications…
Moringa Oil Anti-hepatotoxicity activity:
The oil is hepatoprotective which means it has the ability to prevent damage to the liver. In a test conducted in 2013, it was determined that Moringa oil actually brought about recovery of the liver in rats who had experienced induced liver damage.
We can thus infer from this study that M. oleifera seed oil possesses a very high therapeutic potential which underlines its ability to bring about recovery from CCl4-induced hepatic damage. It also appears M. oleifera seed oil is capable of reversing or inhibiting lipid peroxidation in liver cells; further studies are therefore needed.
Moringa Oil Uses
Moringa oleifera oil is a light oil that is non-sticky and absorbs quickly into the skin.
Moisturizer: With the oil's high oleic acid content, it makes for an excellent, non-sticky, skin moisturizer. It can also be used on skin conditions such as psoriasis or eczema and chapped lips.
Skin and Hair Care: Again because of the very high behenic acid concentration, the oil exhibits conditioning properties that help to keep skin and hair soft and smooth. The oil is very thin and spreads further than would be expected. Simply rub into skin or wash into wet hair.
Cleanser: Oil is reported to help eliminate acne and blackheads. It may also help remove spots from acne when used on a long-term basis.
Anti-aging oil: Due to the high anti-oxidant and behenic oil concentrations, the oil helps improve and rejuvenate the appearance of aging skin.
Carrier oil for homemade massage oils: With the properties described above, the oil makes for a great carrier oil in homemade massage oils.
Base for homemade perfume: Since the oil resists rancidity and has such a high oleic acid level, it makes an ideal choice for a perfume base. It also has the ability to absorb and retain scents and fragrances!
Base for homemade soaps: The oil has been reported to make a good base for homemade soaps.
Other uses: Livestrong published an article on Moringa uses and Moringa oil benefits. They stated the following about the oil from Moringa seeds:
Moringa has also traditionally been a topical ointment for treating several different ailments. When applied to the gums, it's said to eradicate gum disease. As an astringent, it kills germs on the skin, heals abscesses in the teeth, cures athlete's foot, and heals warts and wounds.
Moringa Oil Fatty Acid Composition
Data presented in the table below was taken from research conducted on the seed oil from the "Periyakulam 1" Moringa oleifera seed in 2000.
| FATTY ACID | % COMPOSITION | TYPE |
| --- | --- | --- |
| Caprylic acid: C8:0 | .04 | Saturated Fatty Acid |
| Lauric acid: C12:0 | 0 | Saturated Fatty Acid |
| Myristic acid: C14:0 | 0.13 | Saturated Fatty Acid |
| Palmitic acid: C16:0 | 6.34 | Saturated Fatty Acid |
| Palmitoleic acid: C16:1ω-7 | 1.28 | Mono Unsaturated Fatty Acid |
| Margaric acid: C17:0 | 0.08 | Saturated Fatty Acid |
| Stearic acid: C18:0 | 5.7 | Saturated Fatty Acid |
| Oleic acid: C18:1 | 71.6 | Mono Unsaturated Fatty Acid |
| Linoleic acid: C18:2 | .77 | Poly Unsaturated Fatty Acid |
| Alpha Linolenic Acid: C18:3 | 0.20 | Poly Unsaturated Fatty Acid |
| Arachidic acid: C20:0 | 3.52 | Saturated Fatty Acid |
| Gadoleic Acid: C20:1 | 2.24 | Mono Unsaturated Fatty Acid |
| Behenic acid: C22:0 | 6.21 | Saturated Fatty Acid |
| Erucic Acid : C22:1 | 0.12 | Mono Unsaturated Fatty Acid |
| Lignoceric acid: C24:0 | 0 | Saturated Fatty Acid |
| Cerotic acid: C26:0 | 1.21 | Saturated Fatty Acid |